As a marketer or communicator trying to get your point across you'll have to be comfortable with the fact that a goodly number of people are going to ignore what you have to say.
Am I saying that reflection and contemplation have gone out the window, another casualty of our attention-deficit-disordered internet culture? Has the deeply-immersive process of reading a boo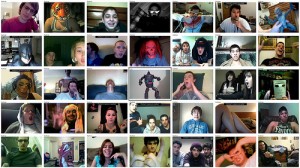 k or a poem disappeared—the gentle unfolding of multiple plot lines, the vivid depiction of a character sketch or the undulating rhythms of a thought process well expressed? Ok, I'll stick to my day job—dang, this is my day job 🙂 I really don't know, and I'm not here to comment on that: I'm more interested in discovering what works.
Chatroulette, a website which pairs up random strangers for webcam-based conversations—while amusing—is a representation of what's popular among our look-and-leave readership. As content creators I think we have to be comfortable with the fact that a great number of our readers are simply content consumers who really don't see the possibilities for content creation presented by the web—how it's a platform for artistic pursuits in the area of photography, video and music, and for writing/blogging and two-way community conversation that can lead to a mass movement. Lots of folks are not using the intranet or internet to create anything at all and a fleeting moment is all they can afford to give us.
So how can we get our messages to resonate with these individuals? We probably can't, but I'm here to say that it's ok. I'm familiar with all of the best practices of content-chunking and link-baiting to make our intranet/internet content more appealing to the click-and-run crowd. But it's more honest to reckon with the fact that we're not going to reach everyone…and to acknowledge that it may not be necessary.
Whom we need to reach are the change agents, the engaged ones, the ones willing to act on what they read. Though comparatively few in number, the power of their ability to influence others is worth more than an army of observers.
I continue write for them–and for you, if you're still reading this. Let us continue to do so, and with John Adams let us dare to read, think, speak, and write because we have a unique vision, voice and message that the world needs to hear. Your world may be the employees who read your messages in the workplace, or it may be blog about Beanie Babies  with 10 subscribers– no matter, rock your world, yes?
Photo credit: Capt Kodak's photostream