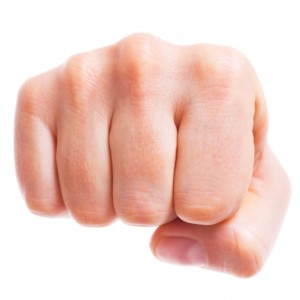 Let's stop and think a moment about your changing role and responsibility as a corporate or marketing communicator: You've evolved from writer to content provider, providing usable chunks of information for an online readership. This may sound less than glamorous, but the fact remains, whether you're writing a story or blog post for the intranet or online, and whether your readers consume your copy on a computer, iPad or smartphone.
What must you demand of your writing now that it's consumed online?
1/ Be Considerate: Your readers deal with unprecedented levels of information and email overload. You owe it to them to produce content that's intuitive and easy to scan and understand. Consider it an act of kindness and sensitivity. This brings us to how you package content, and here we do well to borrow from the field of applied industrial design—from the Bauhaus belief that design should be simple yet expressive, and which so greatly inspired the clean, intuitive and minimalistic product design of Steve Jobs.
2/ Be Simple (really simple):  The information you present online must be unsparingly clear—simple, free of jargon and anything non-essential. Not dumbed down, just streamlined. Ask yourself, "How can I get to the point faster?" "What can I take out to make this more effective?" Don't review for grammar and spelling only. Add an additional review to eliminate redundancies: Completely eliminate, absolutely essential, foreign imports or free gifts, every single hour (hour is singular, making single redundant), that sort of thing. Simplicity is the ultimate sophistication—again, as Steve Jobs used to say, and he was right.
3/ Connect the D
ots: Think about the desired business outcome of your communication, not necessarily the communication result. If you're writing for a leader or manager, walk a mile in her shoes. Close your eyes a minute. Think about her audience and think about the action she wants them to take.
4/ Be Approachable & Engaging: Be playful and irreverent wherever possible and appropriate. Keep your reader's attention—like it or not, you're competing for it with scads of infotainment on YouTube, Facebook and Twitter. Be inventive in your turn of phrase and be sure to look for the story behind the story. The old rules of journalism apply here. Make sure your sentences and paragraphs transition smoothly and logically. Unpack the narrative in a compelling way to engage your readers.
5/ Be Spare: A spare and functional design is paramount, including the strategic use of subheads and chunked content, so your readers can quickly scan to where they want to go if they don't have time to read the whole article, which is frequently the case. Arrange your online content to be easy on the eye, and make sure your words have room to breathe. Don't make it an eye chart; use white space strategically.
Thoughts? What's your experience? Please weigh in below. I'd love to hear from you.
(We're all the sum of our parts, and Dom would like to thank his friends/colleagues Andy Opila and Tracy Benson for inspiring this post, which was first published in 2012.)