There are a number of motivational factors communicators need to understand when trying to drive participation on social intranets. By social intranets, we mean an internal organizational site offering social networking tools for two-way (or many-way) discourse and collaboration, rather than intranets used only to push out information like a website.
I had the privilege of guest lecturing a social media class at New York University recently, and wanted to share some gleanings from our discussion.
Key Behavioral Drivers
There are some common denominators when it comes to behavioral drivers on external social media sites like Facebook, Twitter, LinkedIN and Google+ and drivers of social behavior on social intranets.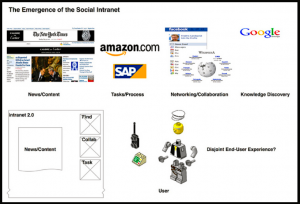 Relationships, and what we derive from them, are a key behavioral drivers—a sense of belonging and affirmation, a sense of recognition and connection through collaborative observations, ideas, feelings, dreams.
The organic nature of threaded conversations and where they lead is another compelling value proposition of social media interaction.
Relationship-building on sites like LinkedIN has in many ways supplanted in-person networking at trade shows. Now you can use LinkedIN to expand your reach and influence virtually, and expand your thought leadership through blog posts, LinkedIN Groups and LinkedIN Answers.
We have challenges to overcome and decisions to make, we enjoy the recognition, connection and affirmation that comes from interaction with colleagues and friends, and we enjoy growing and developing, learning new things. These motivational levers drive our interaction on social intranets as they do on social networks like Twitter, LinkedIN and Facebook.
Social Intranet Value Proposition
The value proposition of social intranets lay in their invitation to two-way communication (think pull, rather than push), a respectful offer to provide our opinions and feedback to help guide the decision-making process, and an offer to collaborate and work as a team to achieve the goals of the organization.
In a nutshell, social intranets work because they leverage the value of relationships and two-interaction, while incorporating employee feedback into the senior leader decision-making model.
The immediacy and direct connection of social intranets—it's the default browser for workers at many organizations—means that it is the right medium for crisis communication and for quelling rumors, and its the right medium for storytelling through affordable HD-quality video. Social intranets offer opportunities for increased collaboration and two-way interaction, and the potential to mine the intellectual capital of the organization to meet business challenges. Successful initiatives using CFO & CEO blogs have generated money-saving ideas from workers while driving workforce engagement through contests to come up with sustainable green practice ideas for the home and workplace. Page and story rankings on social intranets allow workers to see what other colleagues are reading, while subscription-based services allow them to see what they're working on or writing about on their blog or project site.
Does this resonate with you? Please share your comments below.
And why aren't workers using the social intranet at your organization? Stay tuned, I'll cover that in the next installment, part two of this discussion: "Variables of social intranet adoption."
Photo credit: Image by fredriclandqvist via Flickr
Related articles